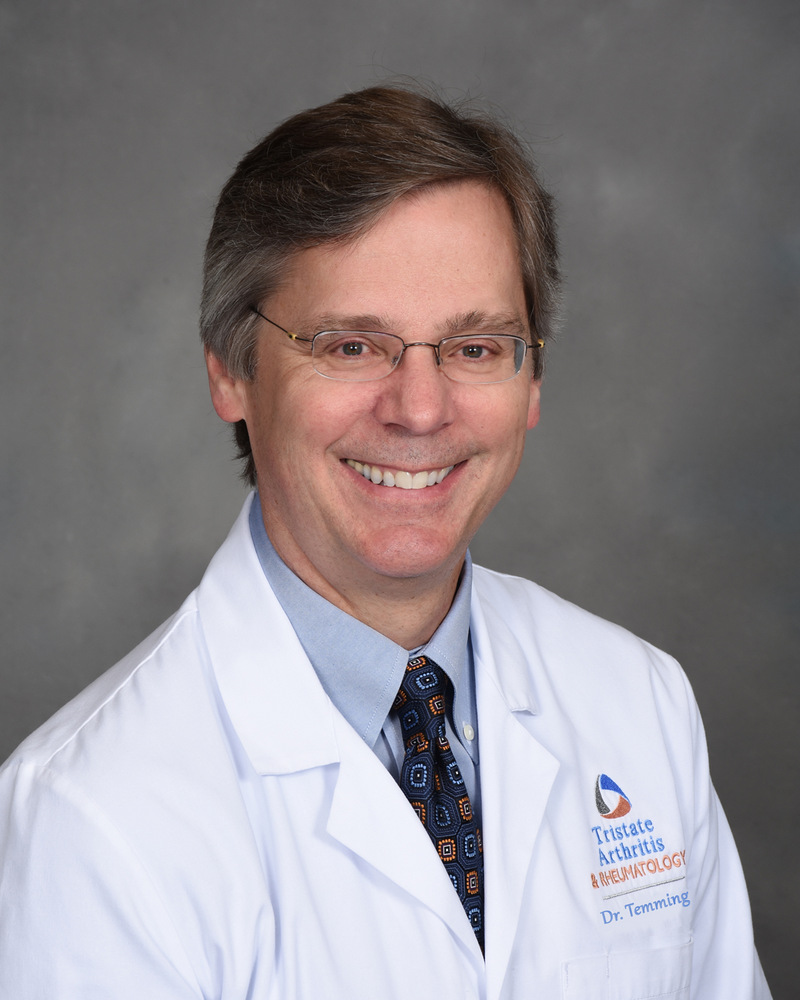 Dr. Joseph Temming is a native of Cincinnati, OH. He attended Xavier University, graduating in 1981. He then attended Ohio State University medical school, followed by a residency in Internal Medicine at Good Samaritan hospital in Cincinnati. He completed his sub-specialty training in Rheumatology at the University of Massachusetts Medical Center in Worcester, Massachusetts. He became the third member of the practice in 1993, joining Drs. Kunath and Burte.
Dr. Temming has received board certification in Internal Medicine and Rheumatology, scoring in the top 5% in the country.
What Patients Are Saying…
This message is just to say thank you Dr. Temming. Throughout my 58 years, I have never known a doctor to be so caring and helpful. I know you have many patients, but you still take the time to call me and offer help. I truly appreciate all you have done for me. -S.C.
I have been going to Dr. Temming for quite a few years. He is very kind, thorough and compassionate. The office staff is very nice and efficient. Overall, it is a great experience in the medical realm, which is something that can't always be said today. -AP
Dr. Temming and all his staff are awesome?? The nurses that work in their Infusion center are also special. Always a positive experience. -BR
Dr. Temming and the entire staff are exceptional! The kindness of everyone is amazing and makes appointments a pleasant experience. I appreciate all they do for me. -CC
Dr. Temming is always able to get me in for an appointment when i feel bad even at the last minute. He is very helpful and gentle with a great personality. I always feel better when I leave the office. He is everything you want in doctor! It is nice to see a doctor that is dressed so sharp for work. Some people don't care but I appreciate it, he looks every bit the amazing doctor that he is. -SB
I had a very positive experience not only with the staff but also with Dr Temming. With being a new patient he amazed me at how he took the time to ask pertinent questions and truly cared to listen to my answers. It is very rare these days when you find a doctor that seems to really care about how he can make your health better! I would recommend him to everyone ! -SI