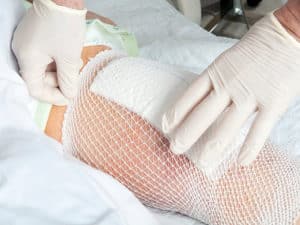 Total knee replacement and other surgical options can be very helpful for some people with knee arthritis. If you have severe knee arthritis and nonsurgical treatment hasn't provided relief, it may be time to consider knee surgery. Thinking about surgery is always stressful. We would like to give you a few questions to ask to make your choice easier.
What Type of Knee Surgery Is Right for Me?
Many factors determine the type of surgery your surgeon recommends. The factors will be your age, the damage, your general physical condition, and your surgeon's expertise. the following are the surgical options…
Partial Knee Replacement – Surgery Partial knee replacement, often called unicompartmental knee replacement, involves replacing only one of the knee's three "compartments"… the inner knee, the outer knee, or the front of the knee
Knee Osteotomy – This surgery is appropriate for a limited number of younger (under age 60 or so), physically active people whose poor knee alignment has caused a great deal of wear-and-tear on just one side of the knee joint, a condition called unilateral knee arthritis or asymmetrical knee arthritis.
Total Knee Replacement – Two prosthetic pieces are made of either metal or a durable plastic called polyethylene. These new surfaces move smoothly against one another, creating a functional knee joint.
Knee Arthroscopy – Remove loose pieces of cartilage or bone (loose osteophytes) suspected of causing irritation. Trim or smooth out cartilage that has grown irregular and bumpy. Remove inflamed synovial tissue or flush the joint with a saline solution, a process called lavage, to clean out materials known to cause irritation and swelling.
Cartilage Repair and Restoration – These procedures may be appropriate for patients who have a relatively small and very isolated area of articular cartilage damage.
It is important that you have accurate expectations about what knee surgery can accomplish. Will you be able to return to activities and sports? Will your pain go away? With the type of knee surgery you choose will you regain full function or partial function of your knee.
What Are the Possible Complications?
Complications can occur they include blood clots, infection, or damage to the knee or surrounding tissue. Pain may be the most common complication following knee replacement. It's normal for patients to experience some degree of pain up to six months after surgery. As a general rule, the more experience your surgeon has with that particular procedure the better the odds for a good outcome.
What Should I Do Before Surgery?
Your surgeon may suggest that you do exercises to strengthen the muscles that support the surrounding the knee, lose some weight, and quit smoking.
How Long Will the Recovery Take?
Recovery time varies significantly per person and per procedure. For example, with arthroscopic knee surgery, the knee may be fully healed at 5 or 6 weeks. A total knee replacement can be 6 to 8 weeks for a daily routine but full recovery will likely take longer.
How Much Physical Therapy Will Be Needed After Surgery?
If you've had knee replacement surgery, chances are very high that you'll feel far less pain and can move around much better than before. Physical therapy (PT) is an important part of that recovery. Rehab exercises will help you walk, climb stairs, and return to other normal activities more quickly. Your ability to get your strength back if you follow your program for rehabilitation after knee replacement surgery, you can expect a complete recovery in about a year or even sooner. You would gradually be able to walk with little or no pain and return to everyday activities with total independence.
What Happens If I Put Off Surgery for a Year or So?
It really depends on each individual knee problems. It may be OK for some and for others postponing may have negative consequences. When arthritic joint damage becomes more severe, the likelihood of a successful surgery may go down.
For persistent joint pain that is interfering with your daily activities, see a Tristate rheumatologist to make the correct diagnosis and begin the proper treatment.
Contact Us (859-331-3100) For More Information to Request an Appointment
—
About Tristate Arthritis and Rheumatology
Tristate Arthritis and Rheumatology is first and largest Rheumatology practice in the Northern Kentucky area. Founded by Dr. Arthur Kunath in 1986, our rheumatology practice now consists of six doctors who are board certified in both Internal Medicine and Rheumatology and a Physician Assistant. Patients see one doctor (except in emergencies), thereby assuring continuity of care and an individualized doctor-patient atmosphere giving the physician the ability to establish personalized and detailed relationships. Our doctors have received numerous awards, including being listed as "Top Doctors" in Cincinnati Magazine, receiving the Patient's Choice Award, the Most Compassionate Doctor Award, and the American College of Rheumatology's "My Doc Rocks" award.
>> Learn More