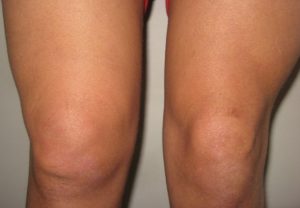 Reactive Arthritis (AKA Reiter's Syndrome) is when an infection in another part of your body triggers joint pain and swelling. Most times these infections are in your intestines, genitals, or urinary tract and then the swelling and pain begins in your knees, ankles, and feet.  Sometimes the infection will cause inflammation that affects your eyes, skin, and urethra. Reactive arthritis isn't as common as other types of arthritis and sometimes the symptoms can come an go over a period of 12 months. 
Reactive Arthritis Symptoms
The following signs and symptoms generally show 1-4 weeks after exposure to a triggering infection.
Pain and Stiffness – Joint pain show mostly in your knees, ankles and feet. You also might have pain in your heels, low back, or buttocks.
Eye Inflammation – Many people have eye inflammation (conjunctivitis).
Urinary Problems – Inflammation of the prostate gland or cervix that causes pain during urination. Cause people to have to urinate more often.
Inflammation of Soft Tissue – Inflammation of the soft tissue where it enters bone, muscles, tendons and ligaments.
Swollen Toes or Fingers – Toes or fingers can become very swollen and look like sausages.
Skin Problems – Rashes on your soles of your feet and the palms of your hands. Some people get mouth sores.
Lower Back Pain – Pain in the lower back that worsens at night and in the morning.
A common rule of thumb is to be wary if you develop joint paint within a month of having diarrhea or a genital infection
The Causes of Reactive Arthritis
Bacteria that are transmitted sexually or through food are the main causes of reactive arthritis. Only a small amount of people who are exposed to these bacteria will get reactive arthritis. It's also good to know that the bacteria that cause reactive arthritis are contagious but the actual reactive arthritis is not.
Chlamydia
Salmonella
Shigella
Yersinia
Campylobacter
Clostridium Difficile
What Increases The Risk of Getting Reactive Arthritis?
Age – Adults between the ages of 20-40 get reactive arthritis most frequently
Sex – Women and men are equally likely to get reactive arthritis caused by a foodborne infection, but men get reactive arthritis more often in response to sexually transmitted bacteria.
Hereditary Factors – There is a specific genetic marker that has been linked to getting reactive arthritis when exposed to certain infections.
How Can I Prevent Getting Reactive Arthritis?
You can't change your genetic makeup but you can reduce your exposure to the bacteria can that cause to reactive arthritis.
Proper Food Storage – Store your food at the right temperature and make sure it is cooked properly to bypass getting salmonella, shigella, yersinia, or campylobacter.
Wear Condoms During Sex – Protect yourself from sexually transmitted infections.
For persistent pain that is interfering with your daily activities, see a rheumatologist to make the correct diagnosis and begin the proper treatment.
Contact Us (859-331-3100) For More Information to Request an Appointment
—
About Tristate Arthritis and Rheumatology
Tristate Arthritis and Rheumatology is first and largest Rheumatology practice in the Northern Kentucky area. Founded by Dr. Arthur Kunath in 1986, our rheumatology practice now consists of six doctors who are board certified in both Internal Medicine and Rheumatology and a Physician Assistant. Patients see one doctor (except in emergencies), thereby assuring continuity of care and an individualized doctor-patient atmosphere giving the physician the ability to establish personalized and detailed relationships. Our doctors have received numerous awards, including being listed as "Top Doctors" in Cincinnati Magazine, receiving the Patient's Choice Award, the Most Compassionate Doctor Award, and the American College of Rheumatology's "My Doc Rocks" award.
>> Learn More