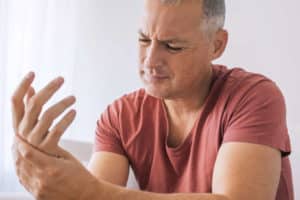 Do you have numbness or tingling in the ring and small fingers, pain in the forearm, and/or weakness in the hand? If so you could be a victim of cubital tunnel syndrome. The ulnar nerve which passes through the tunnel of muscles, ligament, and bone is called the cubital tunnel. The ulnar nerve starts in your neck and ends in your finger. You know the "funny feeling" you get when you hit your elbow in that not-so-sweet spot? Cubital tunnel syndrome causes pain that feels a lot like that pain plus numbness and weakness in the hand.
Who Is At Risk For Cubital Tunnel Syndrome?
Cubital tunnel syndrome may happen with you bend the elbow often.
Some factors that put you at risk for cubital tunnel syndrome include:
Arthritis of your elbow
Bending your elbow for a long time
Bone spurs
Cysts near your elbow joint
Past elbow dislocation
Past elbow fracture
Swelling of your elbow joint
In many cases the cause is unknown
Symptoms of Cubital Tunnel Syndrome
Symptoms may include numbness and tingling in the hand and/or ring and little finger, especially when the elbow is bent, hand pain, weak grip and clumsiness due to muscle weakness in the affected arm and hand, and aching pain on the inside of the elbow. Always see a healthcare provider for a diagnosis.
Treatment For Cubital Tunnel Syndrome
In many cases, cubital tunnel syndrome can be treated, without surgery, by wearing an elbow brace at night. Treatment may include resting and stopping any activity that aggravates the condition, such as bending the elbow, using an elbow pad to protect against chronic irritation from hard surfaces, taking ibuprofen or naproxen, and exercising.
What Diagnostic Tests Will Be Done
Your physician will perform the following:
Evaluate your medical history
Perform a physical examination
Your physician may order X-ray and electrodiagnostic tests such as electromyography and nerve conduction studies. These tests can assist your doctor in determining how well the nerve is functioning and locate areas of muscle wasting and nerve compression.
Prevention Of Cubital Tunnel Syndrome
Preventing cubital tunnel syndrome can be as easy as adjusting your daily routine to reduce stress on your hands and wrists in the following ways:
Minimize repetitive hand movements.
Alternate between activities or tasks to reduce the strain on your hands and wrists.
Keep wrists straight or in a neutral position.
Warm-up before exercising or using your arms for sports or other repetitive movements.
Is Cubital Tunnel Syndrome Permanent?
In general, signs and symptoms of Cubital Tunnel Syndrome arise gradually, progressing to the point where the patient seeks medical attention. Left untreated, cubital tunnel syndrome can lead to permanent nerve damage in the hand. Call your healthcare provider if you are having pain or trouble moving that affects your regular daily activities. Or if you have numbness, tingling, or weakness in the arm or hand. Cubital tunnel syndrome can be treated with rest and medicines to help with pain and inflammation. Exercise may help but, in some cases, surgery may be done.
When To Seek Care And What To Ask Your Healthcare Provider
If you have symptoms of cubital tunnel syndrome that are affecting your daily activities, schedule an appointment with your doctor. Early intervention is essential to experiencing a full recovery from cubital tunnel syndrome. Before your visit, write down questions you want to ask. It is always wise to bring someone with you to remember what instructions or new medicines, treatment or test your healthcare provider suggests for you. Be sure and get a card with the healthcare provider's name and phone number so you can contact your provider if you have more questions after the tests and medicines are taken.
Contact Us (859-331-3100) For More Information or to Request an Appointment
—
About Tristate Arthritis and Rheumatology
Tristate Arthritis and Rheumatology is the first and largest Rheumatology practice in the Northern Kentucky area. Founded by Dr. Arthur Kunath in 1986, our rheumatology practice now consists of six doctors who are board certified in both Internal Medicine and Rheumatology and a Physician Assistant. Patients see one doctor (except in emergencies), thereby assuring continuity of care and an individualized doctor-patient atmosphere giving the physician the ability to establish personalized and detailed relationships. Our doctors have received numerous awards, including being listed as "Top Doctors" in Cincinnati Magazine, receiving the Patient's Choice Award, the Most Compassionate Doctor Award, and the American College of Rheumatology's "My Doc Rocks" award.