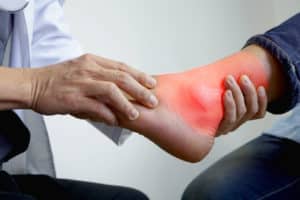 Tarsal Tunnel Syndrome is a condition that is caused by repeated pressure that eventually damages the posterior tibial nerve. The tibial nerve branches from the sciatic nerve and is located near your ankle. The tibial nerve runs through the tarsal tunnel. This is a narrow passageway inside the ankle and is bound by bone and soft tissue. Tibial nerve damage typically occurs when the nerve is frequently compressed due to consistent pressure.
Symptoms Of Tarsal Tunnel Syndrome
If you are experiencing pain, numbness, or tingling, this could be tarsal tunnel syndrome. This pain can be experienced anywhere along the tibial nerve. Pain in the sole of the foot or inside the ankle is also common.
The pain may consist of:
· Sharp or shooting pains
· Sensation of pins and needles
· Electric shock
· Burning sensation
The symptoms can vary from person to person. Symptoms may also start out mild and gradually worsen, or they could be brought on very sudden.
Physical activity can sometimes worsen the symptoms. It is also possible to experience these symptoms while resting.
Causes Of Tarsal Tunnel Syndrome
Along with compression of the tibial nerve, Tarsal Tunnel Syndrome can also be caused by:
· Flat feet, as severe flat feet cause the tibial nerve to stretch
· Bony growths that are typically benign on the tarsal tunnel
· Compression of the nerve caused by varicose veins surrounding the tibial nerve
· Inflammation caused from arthritis
· Tumors, lipomas, lesions, or masses near the tibial nerve
· Inflammation or swelling caused from trauma or any injury
· Diabetes can contribute as this causes the nerve to be more vulnerable to compression
Diagnosing Tarsal Tunnel Syndrome
If you are experiencing any symptoms associated with Tarsal Tunnel Syndrome, you should seek medical attention sooner rather than later. Early treatment can prevent the condition from worsening. You may have to see a specialist, such as a Podiatrist.
During your visit with the doctor, he will want to discuss your symptoms and how they have progressed. He will also want to know if you have experienced any trauma. A physical examination can also help determine if you have Tarsal Tunnel Syndrome. Performing a Tinel's Test is also typically done, this is done by gently tapping the tibial nerve. If a patient experiences a tingling sensation or pain during the test, this is an indication of Tarsal Tunnel Syndrome.
Other tests may be ordered by your physician, such as an electromyography, which detects nerve dysfunction. An MRI may also be ordered, if your physician believes a mass or growth is present and causing the tarsal tunnel syndrome.
Can I Experience Other Complications From Tarsal Tunnel Syndrome?
Permanent nerve damage can be a complication if left untreated. If this occurs, it may be painful to walk or participate in other physical activities.
What Is The Treatment For Tarsal Tunnel Syndrome?
Treatment depends on the cause of the pain.
Treatments That Can Be Done At Home
Taking over the counter anti-inflammatory medications may help reduce any inflammation you are experiencing. The RICE treatment (resting, icing, compression, and elevation) may also be beneficial.
Treatment By A Physician
Your physician may inject steroids to help reduce inflammation. Limiting mobility with braces or splints mays also be necessary. Custom shoes or inserts may help, if having flat feet is causing the symptoms.
Surgery
In more severe cases or cases that have been ongoing for a long period of time, surgery may be recommended. The procedure is called Tarsal Tunnel release. This procedure consists of making an incision from the back of your ankle to the arch of your foot. The surgeon will release the ligament, which will then relieve the nerve.
A less invasive procedure could also be performed. This is where a surgeon will make multiple small incisions inside the ankle. While using tiny instruments, they will then stretch the ligament. This is less traumatizing to the surrounding tissue and therefore recovery and complications are far less.
Overall Outlook For Tarsal Tunnel Syndrome
There are many treatment options available for tarsal tunnel syndrome. It is essential to get an early diagnosis with treatment to prevent permanent nerve damage.
Contact Us (859-331-3100) For More Information or to Request an Appointment
—
About Tristate Arthritis and Rheumatology
Tristate Arthritis and Rheumatology is the first and largest Rheumatology practice in the Northern Kentucky area. Founded by Dr. Arthur Kunath in 1986, our rheumatology practice now consists of six doctors who are board certified in both Internal Medicine and Rheumatology and a Physician Assistant. Patients see one doctor (except in emergencies), thereby assuring continuity of care and an individualized doctor-patient atmosphere giving the physician the ability to establish personalized and detailed relationships. Our doctors have received numerous awards, including being listed as "Top Doctors" in Cincinnati Magazine, receiving the Patient's Choice Award, the Most Compassionate Doctor Award, and the American College of Rheumatology's "My Doc Rocks" award.