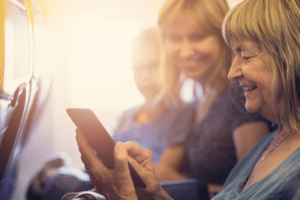 Whether you travel for business or pleasure, you know arthritis is one thing that will always come with you. But you can still go wherever you need or want to go. Make it easier on yourself with these tips…
Exercise
If you do a normal weekly exercise routine do a pre-flight workout. A workout in the pool or maybe 30 minutes of yoga can help loosen joints and ward off the stiffness from sitting a long while in a plane seat. If you have space, leg lifts are a good seated exercise to do on the plane.
Pay a Little Extra For a Front Coach Seat
Basic seat selection costs from $1-$50 or get a front Coach Seat for additional legroom stay away from the middle seat. The extra inches will give you a bit more room to stretch out.
Pack Smart
Maneuvering heavy, unwieldy luggage, walking long distances along crowded airport concourses and standing in endless lines can strain the joints in the hands and feet, causing pain and swelling and increasing fatigue. Use lightweight rolling luggage to avoid lifting heavy loads.
Mind Your Medications
Pack more medicine than you think you'll need, and divide it among your different bags. If one bag is lost, you should still have enough medicine to get by. Leave a copy of your prescriptions at home with a friend or family member. If you lose your medications or are gone longer than expected, have them send you your prescription. Also take pain medication in your carry on.
Walk Around During Long Flights
If your flight is longer than 4 hours, get up to walk around at least every 2 to 3 hours to help prevent deep vein thrombosis. Deep vein thrombosis occurs when a blood clot forms in the veins of your legs due to inactivity. Those with rheumatoid arthritis have twice the risk of deep vein thrombosis as those who don't have RA.
Call Airline Before You Fly
If your arthritis affects your mobility inform the airline beforehand. They will provide a wheelchair and early boarding. They can also provide personnel to carry your luggage. The airline also has special shuttles and elevator platforms for boarding if you are in need of them.
Practice Good Posture In Your Seat
Your knees and hips should be at 90 degree angle when you sit. If by chance this causes your feet to be off the floor ask for a foot rest. For lower back pain ask for a back roll or a pillow.
Use Heat or Ice Therapy
Do not be afraid to use heat or ice on the plane if it helps with pain. A suggestion is to take along a one use hand warmers that are shaken or broken to activate and can be used to apply heat. Cold packs can be made with resealable plastic bags, so bring the bags along with you and have the attendant fill with ice.
Whatever the destination, travel today involves more hassles than it did 20 years ago, including longer lines at airport security, cramped airline seats with less legroom and more crowded aisles. All these are inconvenient enough, but if you have arthritis, travel poses special challenges so be prepared and enjoy your trip.
For persistent pain that is interfering with your daily activities, see a rheumatologist to make the correct diagnosis and begin the proper treatment.
Contact Us (859-331-3100) For More Information to Request an Appointment
—
About Tristate Arthritis and Rheumatology
Tristate Arthritis and Rheumatology is first and largest Rheumatology practice in the Northern Kentucky area. Founded by Dr. Arthur Kunath in 1986, our rheumatology practice now consists of six doctors who are board certified in both Internal Medicine and Rheumatology and a Physician Assistant. Patients see one doctor (except in emergencies), thereby assuring continuity of care and an individualized doctor-patient atmosphere giving the physician the ability to establish personalized and detailed relationships. Our doctors have received numerous awards, including being listed as "Top Doctors" in Cincinnati Magazine, receiving the Patient's Choice Award, the Most Compassionate Doctor Award, and the American College of Rheumatology's "My Doc Rocks" award.
>> Learn More